Clearly this is one of the best things that I have ever seen on Facebook. Come on. You know it's the truth.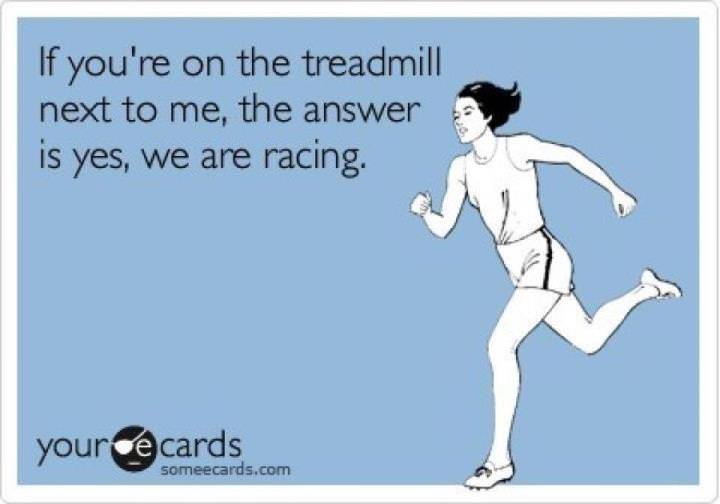 We joke about stuff like this but it is the God's honest truth. If I am on a treadfmill I look around to see who is going the fastest and the farthest and I wage a secret battle against them. I'm sure it would be more challenging if they KNEW that this race to the death was going on....
Whatever. You do what it takes to win.
I remember being in high school oh so many years ago. My coach was a smart dude. He had majored in physiology in college and her knew exactly how to get a bunch of high school kids to lose their lunches out of some no name trail for no reason whatsoever.
How did he do it?
He made us race.
I'm not talking about a ready, set, GO! race. I'm talking about some made up race in his mind where we were all these characters that were real or imagined.
He commentated the race and the finish line was always changing. He called me Steve Spence who at the time was one of the top distance runners in the US. I liked that.
My friend Andy was Russian pole vaulter.
Goofy, I know.
We never knew what the race was or where it finished.
Guess what? It inspired us. It pushed us. It made us work harder than we would have normally because it was interesting and, dare I say, fun.
It must have worked because we won back to back state titles in Cross Country and set the record for the best ever team score the second year.
The Russian pole vaulter was our number 5 man.
So how does translate into a fitness tip that makes sense to YOU?
Compete to win.
I don't mean to beat that dude on the treadmill next you. I mean figure out a way to challenge yourself in your own mind to push yourself.
When Teresa is at a random gym on trips she LOVES to pick up a heavier weight then the dudes that are there. It's her thing. She likes it. It pushes her.
That is a win.
When I workout I want to be the first one done or do the most reps. That is my thing.
Some people look at a programmed workout and want to finish in the time cap. That is how they win.
This morning in the workout I challenged Chris to keep the rowing pace under 2 minutes per 500 meters. It's a way to compete. It's a win.
If you do a 5k your goal might be to win you are group. It might be to set a personal best or break a time barrier. You might want to win the whole race.
Your goal is your goal.
Next time that you workout.... compete! Find a way to challenge yourself and fight for your results. Fight to win. Do your best!
This morning I did a loop on a local trail. My goal was 15 minutes. I was competing with myself, the clock and the trail
I call this a win.
I hope that you got value out of this message. If you did can you please share this blog post on Facebook I would really appreciate it!
Are you local to Grand Island / Eustis / Tavares / Leesburg / Mount Dora, Florida? If you are my wife and I are hosting a nutritional mixer tonight at 7pm at our home in Grand Island. Stop by if you need some better health or more money. We may be able to help you with one or both. Our address is 2481 Plumadore Dr, Grand Island. Call or email if you need directions!
You are a champion!
Rick Copley, Your Best Fitness Coach
"Empowering YOU to be a champion"
rick@yourbestfitnesscoach.com
352-989-6795